Cambodia, Laos, Myanmar and Vietnam, which form the Mekong Sub-Region agreed last week in Ho Chi Minh City to implement a Combined single visa among themselves. Thailand could even join the scheme.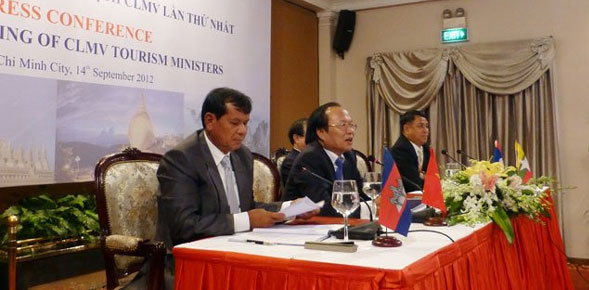 Foreign ministers from Cambodia and Thailand signed an agreement last week to allow foreign tourists to enter either country on a single visa. The move is an effort to streamline tourism to the region. If this proves successful, it may also be adopted by Laos, Vietnam and Myanmar. If that occurs, a traveler could visit all five countries on one visa. The signing moves the project along, but other regulations must be put in place before the plan is implemented, and a date has not been set
Plan outline
• Cooperate to ensure there is visitor exchange and target 25 million international trips to the four countries by 2015.
• Exchange information on tourism planning and marketing.
• Cooperate on joint tourism product development.
• Assist each other on human resource development.
• Establish the standardization of tourism services and quality improvement.
• Cooperate on tourism investment promotion.
• Work with third party international organisations
• Hold annual ministerial meetings in rotation with Cambodia as the host for next year.
As well as covering the Mekong sub-region, the visa would also include Cambodia's current tourism partner, Thailand.
The four ministers signed the CLMV Tourism Joint Cooperation Plan covering the 2013-15 period. The new plan specifies increased information exchange among the four countries as well as the development of joint tourism products that are of high quality. It also envisages joint efforts in attracting more investment into the tourism sector as well as acting together in promoting cooperation with the third parties including countries and international organizations.
Pleased with the "impressive development" of tourism negotiations, Minister Tuan Anh told media that combined, the four countries saw 12.3 million international travellers visit the region, a growth of 14.5 percent on 2010.
The Minister said as well as combining visas, the four Ministers were also looking towards creating new plans to increase information exchange across the four countries and develop new tourism products.
Vietnam minister of Culture, Sports and Tourism, Hoang Tuan Anh said of all the points, human resources was the most important because the quality of people skills will determine the quality of the products.
Because the four countries are developing infrastructure as well as tourism products, Mr Hoang added: "We recognise the short-comings in human resources and related problems and will put all effort to overcome the challenges.
"The four countries will invest in infrastructure and will enhance connectivity – air and land transport. Vietnam has invested a lot and we encourage other countries to do so."
According to Sonny AMO, owner of Tourism Myanmar Travel in Yangon, the Myanmar government is in the process of drafting Tourism Master Plan which will be submitted to the President for approval. National Level conference has just finished in Naypyidaw, finalizing the action points – amending some rules, especially on land-ownership periods, Home Stay and to welcome tourism investment. However Tourism sector is not a top priority in Myanmar. It is far behind Oil and Gas, Fishery, Mining and Agriculture.
The opening up of Myanmar gives countries like Laos and Cambodia some concerns about competition for tourists. That pristine nation has everything for tourism, especially a charming culture such as the wearing of sarongs by men, pristine islands of Mergui Archipelago.
He is concerned that the cooperation also bring human resource problems such as foreign companies over powering and taking the jobs of locals. For example Foreign Companies forming their own tour companies under Myanmar Citizen Name to exploity all the benefits of being a local company and foreigner guides replacing Myanmar guides. He urged governments to work together to have a balanced development across the region. Myanmar's inconsistent rules and regulations in Tourism sector is also hurting Myanmar's image, he said.
Source :
Saigon Daily
http://www.nationmultimedia.com/business/Luang-Prabang-hotelier-ready-to-welcome-AEC-30189603.html
http://www.ttrweekly.com/site/2012/09/ite-clmv-ministers-set-tourism-agenda/
http://www.traveldailynews.asia/news/article/50439/cambodia-laos-myanmar-and-vietnam